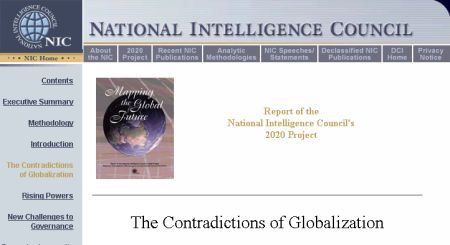 The National Intelligence Council (NIC), es una institución ligada a la CIA americana. Entre otras labores, el NIC realiza informes de prospectiva que reporta a la agencia americana. Así, anteriormente realizó los trabajos Global Trends 2010 y Global Trends 2015 .
Ahora, en el marco del proyecto NIC 2020, acaba de hacer público un nuevo informe: Mapping the Global Future .
El Mapping the Global Future, Report of the National Intelligence Council's 2020 Project, al igual que la mayoría de las investigaciones en prospectiva se ha basado en las opiniones de expertos . En este caso se ha consultado a expertos no-gubernamentales de todo el mundo . El informe completo puede leerse on-line o tambien puedes bajar desde Internet el archivo en formato .pdf (ojo casi 7MB) desde la dirección www.foia.cia.gov/2020/2020.pdf , y leerlo tranquilamente desde tu ordenador.
Los informes de prospectiva del NIC utilizan la metodologia de escenarios y como recomienda el CPB Netherlands Bureau for Economic Policy Analysis holandes, se han tenido en cuenta cuatro escenarios.
Los escearios están bien trabajados, reflexiones previas, proyecciones de algunas variables, o también para ilustrar los escenarios cartas desde el futuro. Por ejemplo, la carta escrita por Sa'id Muhammad Bin Ladin el 3 de junio de 2020 , o la carta escrita por el responsable del World Economic Forum- eko buruak el 12 de Enero de 2020.
Los escenarios de futuro tenidos en consideración son los siguientes:
El capítulo final recoge las implicaciones politicas en función de los diferentes esecenarios. En un primer vistazo, parece que el NIC ha tratado de extraer conclusiones de los cuatro escenarios propuestos.