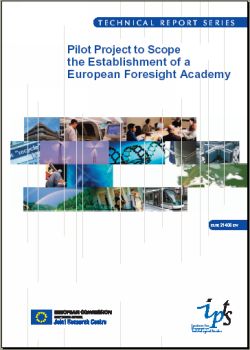 Michael KEENAN y Fabiana SCAPOLO del IPTS (Institute for Prospective Technological Studies) han desarrollado un proyecto piloto para el establecimiento de algo así como una Academia Europea de Prospectiva ( Pilot Project to Scope the Establishment of a European Foresight Academy ), cuyo informe fué publicado en noviembre de 2004 y se encuentra disponible en formato .pdf (1,3 MB ). Tambien hay información en el website de la European Foresight Academy
En el informe hacen hincapie en tres programas universitarios europeos relacionados con la prospectiva impartidos en:
The Conservatoire Nationale des Arts et Metiers (CNAM) in Paris, bajo la dirección de Michel Godet,
the Faculty of Social Sciences at the Pontifical Gregorian University of Rome, donde desempeña su labor Eleonora Barbieri Masini,
the Finland Futures Academy in Turku.
Hacen mención de los programas de la University of Manchester (PREST), the Freie Universitaet Berlin, y la Futures Academy at the Dublin Institute of Technology.
Ademas mencionan otros cursos de prospectiva entre los que se incluye el nuestro de la Universidad de Deusto en San Sebastian o el de nuestro colega Enric Bas en Alicante: Examples include the University of Alicante, the University of Deusto in San Sebastian, the Budapest Futures Research Centre, and the Universitatea Babes-Bolyai in Cluj-Napoca, Romania. For further information on these programmes, see the Australian Futures Institute (AFI) International Survey of University Futures Courses.
Efectivamente, en su día el Australian Foresight Institute publicó una guía de cursos universitarios de prospectiva en todo el mundo, que tambien incluía información de nuestro curso