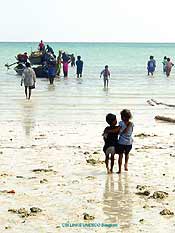 Tsunamis : prospective et prevention es el título del seminario que se celebrará en Paris el 10 de mayo. En la mesa redonda participarán los geofísicos Claude Allegre y Emile A. Okal, así como Patricio Bernal de UNESCO.
A buenas horas, mangas verdes pensarán algunos, pero dado que es necesario aprender de los errores y que el riesgo de nuevos Tsunami sigue vivo, el tema del seminario que se celebrará en París no puede ser más actual y apropiado.
La UNESCO dispone de una Division de la prospective, de la philosophie et des sciences humaines - Division of Foresight, Philosophy and Human Sciences , es decir una división de Prospectiva, Filosofia y Ciencias Humanas todo ello unido. El area de Prospectiva es dirigida por Jérôme Bindé y cada cierto tiempo organizan jornadas y seminarios referidas a la temática, al tiempo que ponen a disposición de los interesados documentación.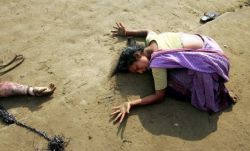 En el caso de Tsunami que afectó al Oceáno Indico, la UNESCO ha puesto en marcha un portal web , al objeto de coordinar ayudas, prevención y la reconstrucción de las áreas afectadas. El portal está disponible en inglés, francés y español.
Fotos:
arriba, UNESCO
abajo, Arko Datta / Reuters, World Press Award 2005