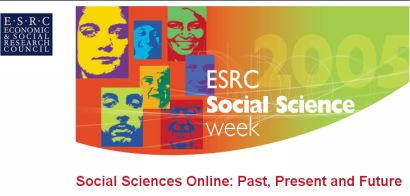 Imaginativo uso de los weblogs el que realizan en la Semana de las Ciencias Sociales patrocinada por el ESRC británico, Economic and Social Research Council, bajo el título Social Sciences Online: Past, Present and Future . ¡Todos los apartados, ponencias, papers, aportaciones, preguntas, sugerencias y otras informaciones estan organizadas en estilo blog!
El blog estará abierto hasta el 1 de Julio, para recibir aportaciones y luego permanecera en la red a modo de archivo.
Existe un blog principal: socsciweek y puede accederse a los diferentes apartados a través del mismo. Todo integrado y con el mismo diseño corporativo. Las aporaciones se incluyen a modo de respuestas en el blog y una vez registrado/a pueden enviarse ponencias a modo de "post" o nuevas entradas del blog.
Me ha parecido un interesante uso de los blogs, una manera de organizar de forma sencilla la información de un congreso, aunque quiza no sea tan intuitivo, ni sirva para uno con muchos talleres. Los apartados son los siguientes:
Muchas e interesantes aportaciones. Dos de ellas han llamado mi atención: por una parte, la ponencia de Jacqui Taylor, The Internet: a World Wide Social Science Laboratory? y por otro la ponencia de Andy Ramsden sobre el papel de los blogs en la enseñanza: What are the potential uses of Blogs in Teaching and Learning?