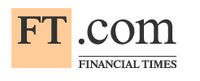 El Digital Business del prestigioso Financial Times ha recogido en un informe especial el tema del código abierto y cómo está influyendo en la innovación, la colaboración y el desarrollo de productos en las empresas.
Si la prensa económica más prestigiosa del mundo lo dice, esto va en serio. Estupendo. Aprovéchalo, como dice Nicole : si necesitas algo con credibilidad para poner delante de la nariz de tu jefe y apoyar tus ideas sobre el software libre y los contenidos abiertos, quizá esto te pueda ayudar.
Algunos artículos interesantes a los que se puede acceder:
How open source gave power to the people de Richard Waters con referencias a la innovación abierta, al software libre, la visión de representantes de algunas empresas tecnológicas, y al nuevo libro Democratizing Innovation de Eric von Hippell del MIT Sloan School's;
The March of the Web-Enabled Amateurs de Lawerence Lessig, sobre contenidos abiertos y colaborativos, los blogs, la wikipedia o los proyectos software libre, y con una antigua historia que no conocía sobre el irlandes Richard Chenevix Trench y su impulso al Oxford English Dictionary, que el redactor del FT califica como el primer gran proyecto open source, por el llamamiento que se hizo a que voluntarios se encargaran del mismo, nada menos que en 1857;
o Web brings "us" closer to "them" de Scott Morrison, con referencias a los contenidos colaborativos en Internet.
Aunque tambien con alguna crítica respecto a la usabilidad por parte de Dan Gillmor: Still some way to go on usability , se solucionará. Tiempo al tiempo.