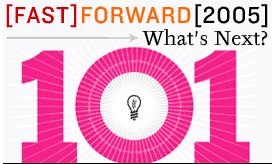 Fast Forward 2005: una lista de tendencias cara al futuro. Ahora que estamos acercándonos al final de año, Fast Company ha publicado su listado : 101 ideas y tendencias que cambiarán nuestra vida y trabajo durante 2005.
Here is our look at the surprising people, ideas, and trends that will change how we work and live in 2005.
En la web de Fast Company los lectores pueden aportar su 101 idea o tendencia a traves del cuestionario habilitado.
Las ideas y tendencias estan clasificadas en 10 categorias :
Biotecnología
Libros
Gestión
Marketing
Nuevos Productos
Vida en la oficina
Comercio
Estrategia
Tecnología
En estas 101 ideas y tendencias hay de todo, pero por destacar alguna: Open source innovation.
Siguiendo el modelo del Software Libre, extender su aplicacíón a la creación de innovación. En esta línea apunta Global Ideas Bank .
Para que surja una buena idea son necesarias centenares o miles de ideas Idea on bat ez da berez sortzen, saila da ideia bat izan eta hori ona izatea, ideia askoren artean errazagoa da ideia on bat sortzea or to get a good idea you need to have a lot of ideas. A model for the future could be the open source software movement. Si no, consultar la selección de Richard Watson .